China's real estate sector has run into a massive debt problem. The problem had been brewing for quite some time and recently snowballed into a full-blown crisis. Reputed realty players like Evergrande have run into troubled times and have racked up enormous debts. In fact, Evergrande accounted for liabilities of about USD 300 billion as they borrowed large amounts at low interest rates from banks but failed in repaying the debt. A few other biggies followed suit which in turn triggered construction stoppages. And on the flip side, these developments have left homebuyers high and dry. Aggravating the situation further, property buyers across China have come together and decided to stop paying mortgages on more than three hundred unfinished housing ventures. The Chinese government is under tremendous pressure to bailout the embattled realty sector by releasing funding worth almost $148 billion. The government is aiming to leverage this bail-out package to allow realtors to finish their projects. 
Unfinished housing crisis
The slowdown in China's broader realty spectrum can be attributed to two reasons. In August 2020, China imposed the "Three Red Lines" policy. The policy was a set of 3 parameters basing on which real estate firms were evaluated for borrowing eligibility. The three red lines included liability vs asset ratio of under 70%, net gearing ratio of less than 100% and cash vs short term debt ratio of more than 1X. These tight regulations proved to be insurmountable after the onset of COVID19 as many firms failed to adhere to the parameters laid down owing to total lockdown.
The crisis was triggered by the onset of COVID19 lockdowns. Followed by that, most property developers simply ran out of money. The operational model prevalent in the real estate sector also contributed to the situation. Most realty enterprises would collect large down payments, usually 30%-50% and pump in the same into their ventures. At the same time, these firms also got cheap loans which were diverted into other businesses; most of these incurred losses due to various reasons. This trend got Chinese regulators worried and they promptly cut off access to the easy credit. This development precipitated China's fiscal slow down. That's when investors started to really reimagine their investment priorities. So, realty sales nosedived causing most developers to run out of cash.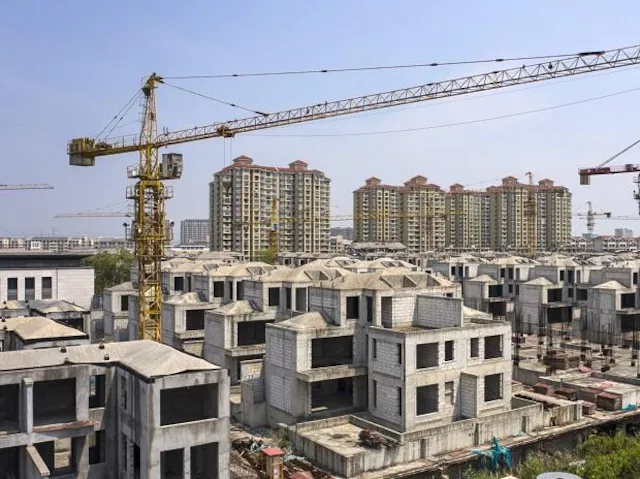 The global impact
The whole thing is cyclical in nature. Real estate contributes to a huge part of China's economy; being one of the largest global economies, Chinese economy is plugged into the rest of the world. It all starts when major players like Evergrande and other developers, default on their payments to their suppliers and workers. As a result, these people don't pay their bills and concurrently, layoff measures start kicking in. It's a classic snowball effect. Moody's credit rating agency recently issued 91 downgrades for top developers in China; this is a record pace as it had only issued 56 downgrades for the same companies for the period 2010-20. This downgrade showcases a dismal picture for the developers due to weak fiscal health.
The current scenario
As per a recent report from a China based development institution, mortgages account for about USD 133 million. Investments in residential properties declined by a huge 8% YoY. And millions of investors who had fully or partially paid for projects in construction stage continue to wait for completion of projects. Realty customers across China are now gravitating towards ready-to-move-in properties backed by state-owned developers, further weakening the private sector. Due to drastic drop in demand, residential sales during May 2022 slumped to about 50% YoY. According to National Public Radio (NPR), about 20% of China's housing inventory remains unoccupied. Significant drop in sales and increasing vacancies have curtailed the initiation of new projects, impacting the industry bottom-line.
Parallels with the Indian realty sector
Just like their Chinese counterparts, Indian developers tend to exceed their borrowing limit and indulge in over-leveraging for expansion. Several Indian realty firms have not been able to deliver their projects on time due to fiscal crunch. Some entities defaulted on loan repayment during the pandemic owing to lockdown impact. Just like Chinese firms, Indian realty companies too have enjoyed a liberal regulatory regime for a prolonged period. These firms started to feel the pinch as soon as the regulations were revised or tightened. Real estate players of both these nations have also hiked the property prices to offset increased input costs resulting in instant sales slowdown.
The mission critical bottom-line
Distress across Chinese realty sector will not only impact the Chinese economy but will also have ripple effects on other economies including India's. Indian realtors must recalibrate financial risks and reconsider their market strategy to avoid a similar situation. Striking a balance between growth and stability is essential for sustaining in the current scenario. Indian realty firms must focus on generating faster sales of unsold inventory. Pricing must be flexible and penetrative in nature to attract greater footfalls. This ultimately leads to a robust financial environment.
Also Read: