What is SWOT Analysis?
SWOT analysis is a technique for evaluating the four areas of business: Strengths, Weaknesses, Opportunities, and Threats.
SWOT analysis is a framework for identifying and analyzing the strengths, weaknesses, opportunities, and threats that a company faces. The acronym SWOT is made up of these terms. SWOT analysis's main purpose is to raise awareness of the aspects of making a business decision or developing a business strategy. SWOT analyses the internal and external environment, as well as the aspects that can influence the viability of a decision, to accomplish this.
Businesses often utilize SWOT analysis, but it's also employed by nonprofits and, to a lesser extent, individuals for personal evaluation. The SWOT analysis can also evaluate efforts, goods, or projects.
What is the purpose of a SWOT Analysis?
Different stakeholders use a SWOT analysis in different ways. A management team, for example, will use the framework to help with strategic planning and risk management. SWOT lets people picture the firm's relative advantages and drawbacks to grasp better where and how resources should be allocated, whether for growth or risk mitigation.
To examine the firm more thoroughly, the analyst community may aim to comprehend (and quantify) strengths, weaknesses, opportunities, and risks. Consider how the results of a SWOT analysis might assist analysts in better understanding model assumptions. It may be an equity researcher attempting to determine a company's fair market value or a credit analyst attempting to comprehend a borrower's creditworthiness better. In general, many people believe the SWOT framework to be one of the most important strategic planning and business analysis tools.
How to Perform It and When to Apply It?
SWOT analysis is frequently employed at the outset of a strategic planning process or as part of it. Since it allows a company to identify previously unarticulated potential for success, the framework is considered a valuable decision-making tool. It also warns of risks before they become too overwhelming.
A SWOT analysis can help a company find a market niche with a competitive edge. It can also assist individuals in charting a career path that capitalizes on their strengths while simultaneously alerting them to potential dangers to their success.
This analysis is most effective when used to recognize and include business challenges and concerns pragmatically. As a result, SWOT frequently incorporates a multi-functional team capable of openly sharing views and ideas. To construct the SWOT analysis, the most effective teams would draw on real-life experiences and data, such as revenue or cost information.
Importance of SWOT Analysis
SWOT Analysis can help you find dangerous blind spots in your organization's performance and challenge questionable assumptions. It can provide new insights into where your organization is now and help you design the precise correct plan for any situation if used carefully and collectively.
For example, you may be fully aware of some of your organization's strengths. Still, you may not realize how unreliable those strengths are unless you record them alongside vulnerabilities and dangers.
Similarly, you may have genuine concerns about some of your company's shortcomings. Still, by going through the research step by step, you may uncover an opportunity that could more than compensate.
Manufacturing and OEM Perspective on SWOT Analysis
The analysis will look at all of the manufacturers in a given market's underlying Strengths, Weaknesses, Opportunities, and Threats. This allows the corporation to list its best tactics for gaining revenue and market share – both with equipment manufacturers and, perhaps, with the manufacturer's end-user client base.
For example, if providing technical support to end-user clients is a cost that most equipment manufacturers cannot justify, this vulnerability could be an opportunity for your organization. Your team can profit from this by delivering that service on behalf of your OEM to those end-user clients. Keep in mind that the SWOT analysis is merely a tool. How you use it will decide how effective it is in assisting you in growing your business.
It takes a lot of time and effort to grow a business with any manufacturer. Dealing with manufacturers can be tough due to extensive sales cycles. Reducing these cycles frequently necessitates venturing outside of your primary market. In certain circumstances, this entails broadening the market to include your customers' customers.
Some Basic & Example Factors of SWOT Analysis:
Strengths:
What does our company do well?
What do our clients say about our company & products that we do well?
What is our company's & products' USP?
Does our company have strong brand awareness?
Does our company have loyal clients?
Does our company have good relationships with Suppliers, Distributors, and Influencers?
What proprietary or unique assets does our company have?
What skills do we have that our competitors don't have?
Does our company have good capital?
Does our company have a healthy operating margin compared to the industry benchmark?
Weaknesses:
Where can our company improve?
What are our clients frequently complain about our company?
Which objections of our company are hard to address?
Does our company not well know?
Does our company have any limitations in distribution?
Do our company's resources and machinery outdated?
Does our company lack in staff, skills, or training?
Does our company suffer from cash flow problems? Debt?
Does our company's profit margins smaller than industry benchmarks?
Opportunities:
Do our company's competitors have any weaknesses we could benefit from them?
Is the target market of our company growing or shifting in our favor?
Is there any untapped pain point or niche market for our company?
Does the company have any upcoming events to benefit from them?
Does the company have any geographic expansion opportunities?
Does the company have any new potential sources of financing?
Can the company benefit from any current industry and economic trends?
Can the company benefit from any current social & political trends?
Can the company improve by adopting any new technology?
Threats:
Does the company get new competitors in the industry or expansion in existing competitors?
Is the target market of our company shrinking or shifting?
Do the company's indirect competitors become direct competitors?
Any recent industry or economic trends against the company?
Does any new technology in the market work against the company?
Any expected disruption in the supply chain due to wars between nations?
Any upcoming political instability in our location that affects the company's growth?
Any change in environmental conditions that are against the company's growth?
Advantages and Disadvantages of SWOT Analysis
The following are some of the advantages of using a SWOT analysis:
The analysis offers a visual representation of the factors most likely to influence whether a company, project, initiative, or individual can reach a goal successfully.

A SWOT analysis can stimulate diverse viewpoints and methods by incorporating experienced cross-discipline team members. 

Since most of this variety, a SWOT analysis can flesh out each area and reveal innovative ideas and challenges that would otherwise go missing.
Although a SWOT analysis is useful for understanding the various factors that influence performance, it does have limitations, including the following:
Since some strengths, weaknesses, opportunities, and dangers are readily overlooked or misunderstood, the analysis may not cover all essential elements.

Each element's input can be empirical or subjective, resulting in a distorted perspective.

The insight SWOT provides has a limited shelf life because it only captures factors at a specific time and does not account for how those aspects may change over time.
The Bottom Line
SWOT analysis is a great tool for guiding company strategy sessions. Having everyone in the room talk about the company's strengths and shortcomings, outline opportunities, and threats, and develop ideas is extremely effective. Frequently, the SWOT analysis you imagine before the session alters to reflect variables you were unaware of and would never have caught if the group's participation had not been included.
A SWOT analysis can be used for a company's entire business strategy sessions or a specific segment like marketing, production, or sales. Before committing to the overall plan developed from the SWOT analysis, you can see how it will filter down to the segments below. A segment-specific SWOT analysis that feeds into an overall SWOT analysis can also be used in reverse.
SWOT has limits, despite being a powerful planning technique. It's one of various business planning methods to examine, but it shouldn't be utilized in isolation. In addition, the points listed within the categories are not all prioritized equally. As a result, a more thorough investigation is required, which will need the use of a different planning technique.
SWOT Analysis Sample Templates & Examples:
Click the below links to download.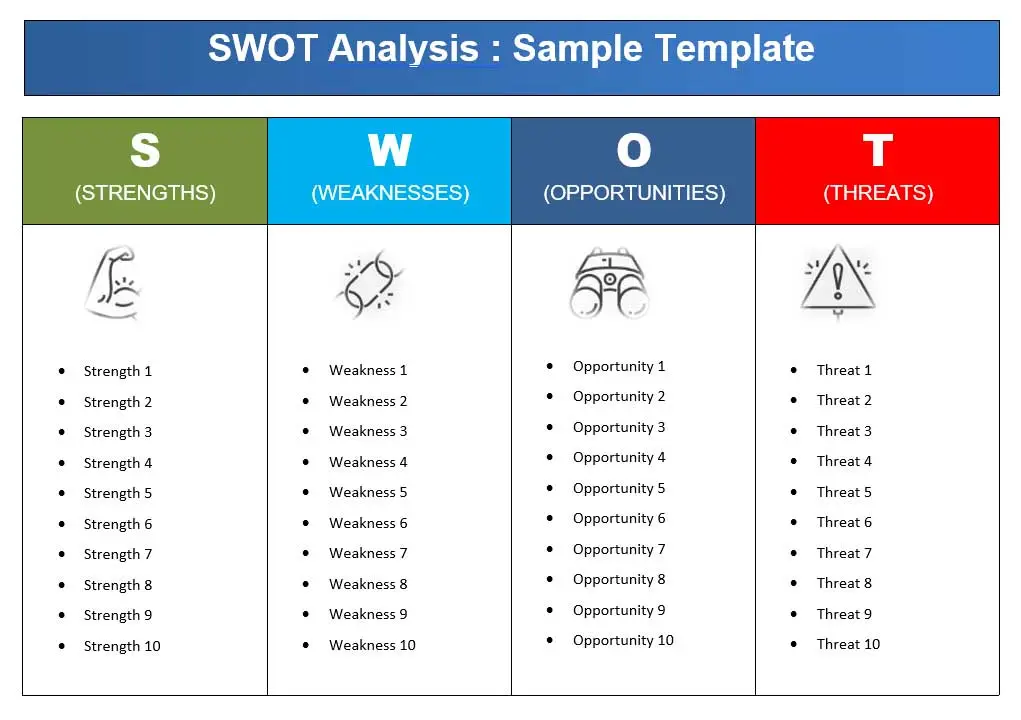 Also Read: