A lot has been happening in the Indian defence industry especially on the manufacturing front. The Indian defence manufacturing industry is vital to the national economy and also the world economy. The industry is experiencing hyper activity mainly due to rising concerns of national security. The ongoing territorial disputes with Pakistan and China have been acting as key drivers of increased demand for defence equipment. In fact, India has been consistently ranked among the top importers of defence equipment to gain technological advantages over the past five years. To modernise its defence forces and reduce external dependency for weaponization, the government has been taking several endeavours including 'Make in India' activities via policy support initiatives.
The competitive edge
Recently, the Government of India changed the automatic route limit for FDI in the defence sector to 74% in order to boost national security. It also improves self-sufficiency in product design, hikes investments, income and of course employment. The government has also invited private players into the defence industry to add traction to indigenous manufacturing.
The government initiatives
In November 2021, Defence Acquisition Council (DAC) accorded Acceptance of Necessity (AoN) to capital acquisition proposals worth Rs. 7,965 crore (US$ 1.07 billion). This has been undertaken to modernize the defence sector and optimize armed forces' functional needs. Recently seven defence public sector undertakings (PSUs) were created through the restructuring of the Ordnance Factory Board (OFB). This was executed to boost "functional autonomy, efficiency, growth potential and innovation in the defence sector".
A unique opportunity
India is adopting a proactive approach towards foreign mutual trade. Rising number of joint agreements with foreign countries such as USE, Kazakhstan and the US for joint defence manufacturing and strengthening defence are manifestation of the same. These global alliances offer huge potential from a growth perspective which can boost defence manufacturing in India.
Market size
India's defence manufacturing sector experienced a CAGR of 3.9% between 2016 and 2020. The Indian government is looking at a defence production target of US$ 25.00 billion by 2025 (including US$ 5 billion from exports by 2025). Defence exports in India were tipped to be at US$ 1.29 billion in 2019-20. India's defence import value stood at US$ 463 million for FY20 and is expected to be at US$ 469.5 million in FY21. Defence exports in the country grew strongly in the last two years.  India aims to export military hardware worth US$ 5 billion (Rs. 35,000 crore) in the next 5 years. As of 2019, India ranked 19th in the list of top defence exporters globally by exporting defence products to 42 countries.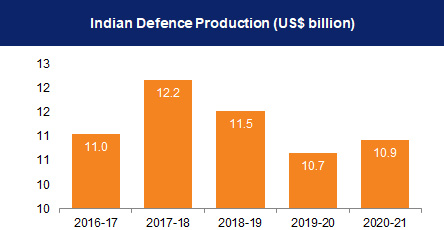 Special impetus to MSMEs
To encourage start-ups and micro, small & medium enterprises (MSMEs) in Defence Research & Development (R&D) in achieving the 'Aatmanirbhar Bharat' objective, Indian defence minister Mr. Rajnath Singh released a new version of 'Defence Research and Development Organisation (DRDO) Procurement Manual 2020' on October 20, 2020. The government plans to commission new infrastructure including a defence park in Kerala to manufacture ordinance for the armed forces. The project promotes MSMEs adding momentum to the 'Make in India' initiative. In November 2020, the Department of Defence, in partnership with the DGDE and Armed Forces, established a land management system (LMS) to optimize the overall defence land management. In February 2021, Defence Research and Development Organisation (DRDO) handed over Licensing Agreements for ToT (LAToT) for 14 DRDO developed technologies to 20 industries at Aero India 2021 summit in Bengaluru.
Recent investments
Foreign Direct Investment (FDI) equity inflow in the defence sector for April 2000 – June 2021 stood at US$ 10.15 million (Rs. 61.52 crore) as per the

Department for Promotion of Industry and Internal Trade (DPIIT)

.

In November 2021, Mr. Rajnath Singh, Minister for Defence, inaugurated the first private operationalised defence manufacturing facility in the Uttar Pradesh

Defence Industrial Corridor (UPDIC)

, in Lucknow to manufacture parts for aircraft and helicopter engines, structural parts for aircrafts, drones and UAVs, submarines, ultra-light artillery guns, space launch vehicles and strategy systems.
In November 2021, the

Defence Research & Development Organisation (DRDO)

and

Indian Air Force (IAF)

successfully flight tested two indigenously-developed smart anti-airfield weapons.
In November 2021, as part of growing India-Israeli technological collaboration, the Defence Research and Development Organisation (DRDO), India and Directorate of Defence Research and Development (DDR&D), Ministry of Defence, Israel, entered a

Bilateral Innovation Agreement (BIA)

to expedite innovation and R&D in start-ups and MSMEs of both countries for development of dual use technologies.

In October 2021, India cleared projects worth Rs. 54,000 crore (US$ 7.21 billion), in less than a month, to enhance military capability with locally made weapons and systems, including transport planes, tanks, helicopters, airborne early warning systems and counter-drone weapons.

On October 27, 2021, India succeeded in launching the surface-to-surface ballistic missile, Agni-5, from the APJ Abdul Kalam Island, Odisha. The missile has the capacity and range to strike targets up to 5,000 kilometres with total accuracy.

In October 2021, the Ministry of Defence signed a contract with the US Government, under Foreign Military Sale (FMS), for procurement of MK 54 torpedo and expendables (chaff and flares) for the Indian Navy, at a cost of Rs. 423 crore (US$ 56.53 million).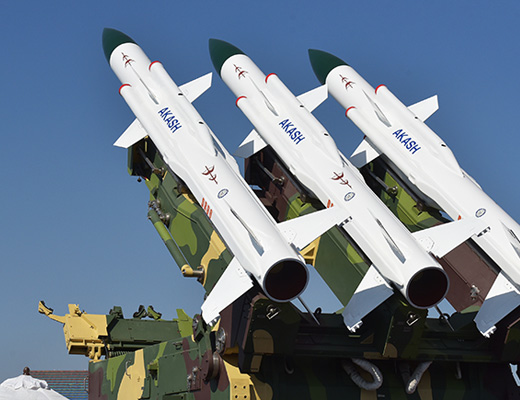 Also Read: