The latest report by Technavio suggests that APAC will show 36% of the market growth, where China and Japan are the key markets, obtaining higher market growth than other regions. 
Industrial Automation – A Blessing for the Industrial Internet of Things (IoT) Market
Over the forecast period, the global industrial IoT market will observe remarkable growth through industrial automation. Regions such as China and Japan from the APAC are expected to procure the highest levels of growth. Technavio's latest market research report also highlights and analyses the forecast and growth of the Industrial IoT market. 
One of the largest applications of industrial automation is seen in manufacturing industries such as food and beverage. The raw materials are converted into finished products with the use of complicated manufacturing equipment that employs a high level of automation. 
In addition to facilitating market growth, industrial or process automation improves output, dependability, efficiency, and safety. It reduces the need for human interaction while also boosting productivity. Consequently, it is gaining steady popularity in a broad spectrum of industries and process sectors. 
A significant obstacle, however, to the industrial IoT market growth on a global scale is lack of awareness pertaining to the effective management of IoT investments and efforts.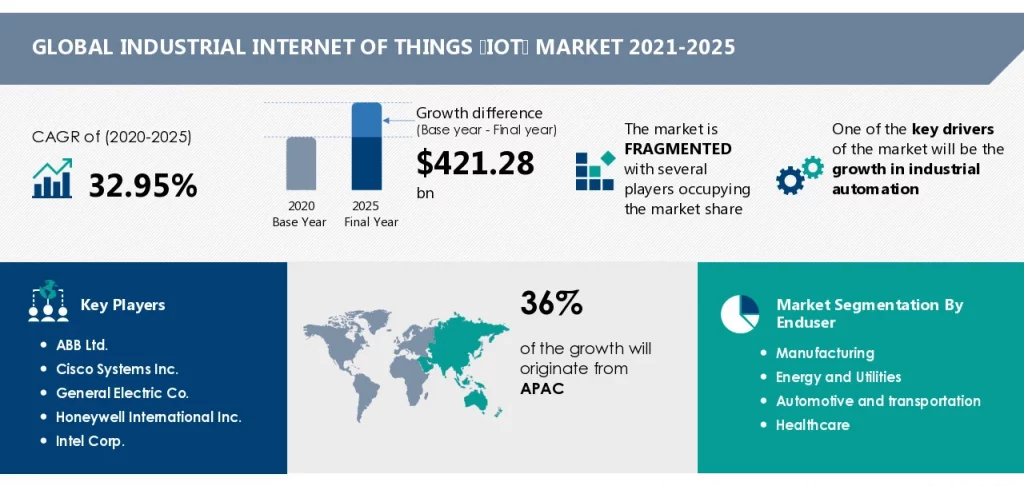 Major Companies In The IoT Market
Cisco Systems Inc. –

Offers a reliable network foundation like edge computing, factor networking, etc.

ABB Ltd. –

Offers ABB integrated internet platforms and cloud infrastructure

Honeywell International Inc. –

IoT-ready, secure solutions for all elements of the industrial internet

General Electric Co. –

IoT solutions through its subsidiary

Intel Corp. –

Solutions to facilitate operational advancements, decision-making, and industry-defining.

 
With the collaboration of the major players in the IoT market and the manufacturing sector, the global industrial IoT market will be observing nothing but success. Moreover, other commercial sectors like healthcare are also adopting IoT solutions.