In the eight-year development of NLP, major policy decisions and shifts are being made to speed up last-mile delivery, alleviate transportation-related problems, saving manufacturers time and money. This increased coordination will accelerate the development of value in the sector and encourage entrepreneurship.
On September 17, 2022, in Vigyan Bhawan, New Delhi, Prime Minister Narendra Modi unveiled the National Logistics Policy (NLP), which aims to make doing business easier and increase the liveability factor. 
The policy aims to bring logistics costs down from the current 13–14% level and align with those of other developed nations. It will improve the ability of Indian goods to compete in both the domestic and global markets. The lower cost will also boost efficiency efforts in all economic sectors, promoting value creation and enterprise.
The Objective of National Logistics Policy
The National Logistics Policy is a wide, multi-jurisdictional, cross-sectoral endeavor to reduce cost and inefficiency by developing a broad, multi-jurisdictional, cross-sectoral structure for the developing logistics ecosystem. 
This initiative aims to boost the Indian logistics sector's productivity and cut expenses. The plan seeks to increase employment opportunities, the economy, and the competitiveness of Indian goods abroad.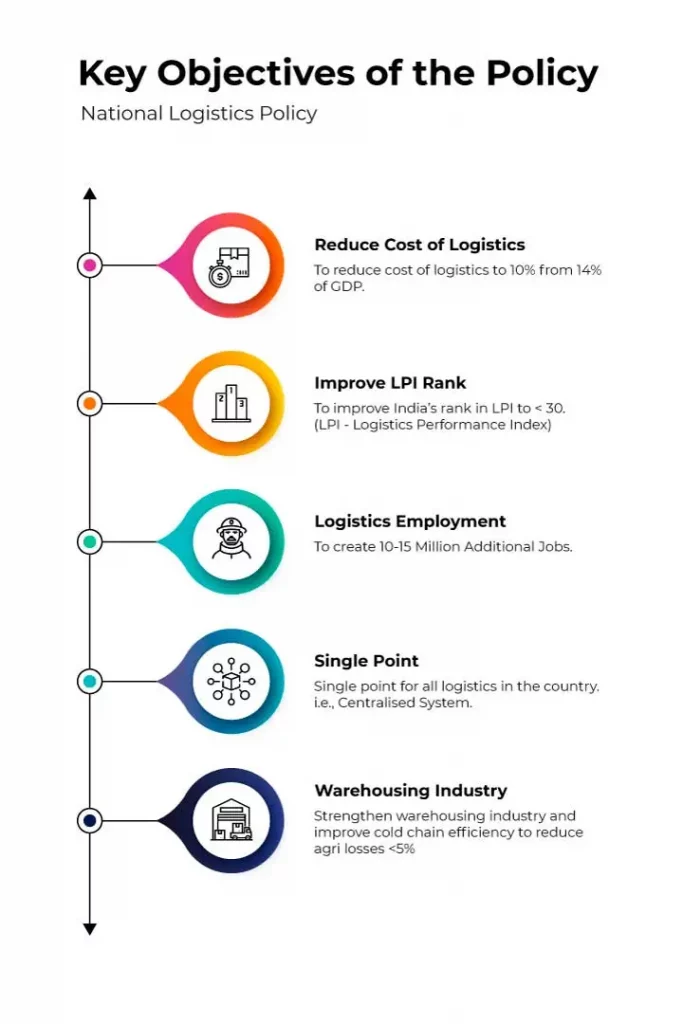 Vision of India
The Prime Minister wants to build a modern infrastructure of top-notch quality by involving all necessary parties in the process of comprehensive planning and implementation. The project's execution will be more effective and synergistic as a result. 
An important first move in this direction was the Prime Minister's initiative, PM GatiShakti, also known as the National Master Plan for Multi-Modal Connectivity, unveiled the previous year. The National Logistics Policy's establishment will support the PM GatiShakti program.
The backbone of India's international trade is logistics, which helps diversify the country's exports and domestically produced goods. As a result, the NLP aims to promote efficient commodity transportation and boost the competitiveness of Indian businesses.
By 2030, it aims to bring down logistics costs from its current level of 16% of GDP to the world average of 8%. Additionally, predictions indicate that the Indian logistics market would increase in value from $ 160 billion to $ 215 billion over the following two years.
After expanding at a CAGR of 7.8 percent over the previous five years, the Investment Information and Credit Rating Agency of India Limited (ICRA) predicts that the industry will expand at 10.5 percent through 2025. In India, this industry employs more than 22 million people, and it is predicted that through skill development, it will expand at a rate of 5% over the next five years.
The Four Crucial Actions That Need to be Completed for NLP
Integration of Digital System (IDS):

Systems from seven distinct departments will be digitally integrated with services like railways, road transport, commerce ministries, foreign trade, and aviation.

Unified Logistics Interface Platform (ULIP):

ULIP permits confidential real-time information exchange while ensuring faster and more seamless cargo flow. This Logistics Data Bank Project of the National Industrial Corridor Development Corporation (NICDC) has been leveraged.

Ease of Logistics (ELOG)

: Through openness and accessibility, the ease of logistics business would be enabled and ensured through ease of logistics (ELOG).

System Improvement Group

: It will routinely keep track of all logistics-related projects.
Logistic Complication and complication
Lack of knowledgeable and specialized staff
In India, there is a severe shortage of professionals with the necessary skills. The laborers are overworked, underqualified, and lacking in the necessary skill set to increase process efficiency. In order to save money, businesses also make concessions regarding the compensation and training of their logistics workers.
Tax and warehousing disparities
Everyone is aware of the depressing appearance of India's subpar warehouses. Numerous cargoes sustain significant damage as a result of pest-infested warehouses, a lack of storage space, leakage damage, and other factors.
Solving Major Logistic Issues
National Logistic Policy (NLP) seeks to reduce logistical issues, considerably increase exports, and ensure that small firms and the individuals who work there make money. It will boost the economy in several ways, including creating jobs and the interstate and international trade of goods.
This regulatory shift will pave the way for India to become a logistical hub and global production powerhouse. When used in conjunction with earlier connection and infrastructure-improvement initiatives like:
The GatiShakti Programme:

The purpose is to construct infrastructural linkages, including motorways and railways projects across the nation, in a coordinated manner.

The Sagarmala:

It envisions using the possibility of the coastline and waterways to decrease the cost of infrastructure needed to reach its targets.

The Bharatmala:

It focuses on minimizing major infrastructure gaps to boost the efficacy of traffic congestion circulation across the nation.
The above fundamental initiatives are expected to form a separate window e-marketplace as a one-stop kiosk for practical knowledge and information transfer that can ease transportation facilitation issues in the country.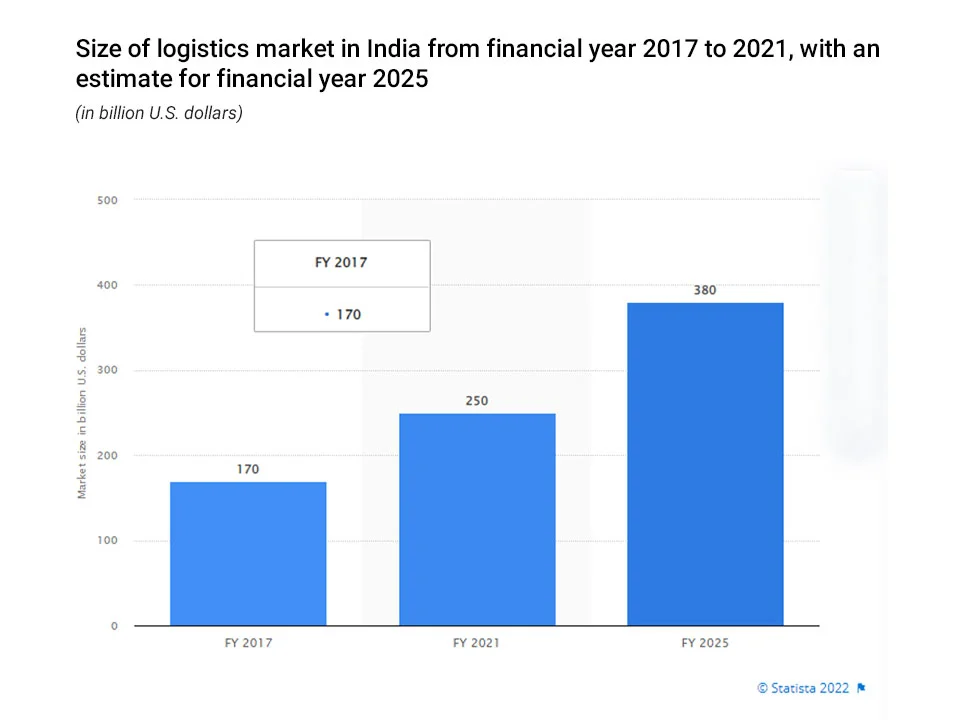 Overall Growth in Exports
There have been some remarkable improvements in the Indian ports already, as the capacity of Indian ports has expanded dramatically, and the average turnaround time for cargo ships has lowered by 18 hours. 
Forty air cargo ports have been constructed to promote exports, and thirty airports have already been prepared with cold storage facilities. There will eventually be 35 multi-modal centers nationwide, empowering integrated freight movement. The advancement of waterways is a direct reaction to the urgent need for eco-friendly and cost-effective transport modes.
India's latest policy of Comprehensive Logistics Action Plan (CLAP) gives details and a force to the NLP's particular goals. It aims to reduce India's logistics cost to a level equivalent to international benchmarks by 2030. 
Thus, it hopes to rank among the top 25 nations in the Logistics Performance Index (LPI) by 2030. (India is at 44th position in terms of logistics cost in 2018 as per the World Bank Logistics Index).
Technology Deployment
Better technology has also been employed to support the logistics industry. For instance, the E-Sanchit site has enabled paperless export-import trade procedures, and faceless evaluation in customs has been adopted. Additionally employed on roads to increase the efficiency of the logistics sector are e-way bills and FASTag. 
A unified tax system, such as the Goods and Services Tax (GST), makes logistics-related difficulties easier to handle. Industry watchers are also confident that National Logistic Policy will introduce a revolutionary approach to the country's logistics environment, enhancing efficiency across supply chains. India aims to have a $5 trillion GDP by 2024–25. 
Economic Reform
Connectivity and robust infrastructure will be critical in this regard, and the National Logistic Policy offers the sector the necessary push. This program will increase warehousing capacity and facilitate speedier communication, bringing products closer to their consumption points.
It closes a critical gap, frequently preventing infrastructure projects from realizing their full potential to spur economic growth. However, with the coordination of logistics, multi-modal investment, and energy supply, businesses may be more confident that they will sustain their long-term investments. The NLP's recommendations will also significantly increase Indian logistics' dependability, demonstrated by the worldwide pandemic as of utmost importance in global supply chains.
NLP will also revitalize all other industries. Manufacturing, production, automobiles, and other businesses such as warehousing and infrastructure development will all grow as logistics develop. It will stimulate the development of commercial real estate and industrial parks.
Bottom Line
National Logistic Policy will advocate for establishing a uniform regulatory environment and institutional structure governing the sector, establishing multi-modal logistics parks (MMLPs) as significant marketplaces. It will result in speedier first- and last-mile connectivity, and as logistics improve, the export-import, manufacturing, cold storage, and related industries will expand.
The National Logistic Policy aims to reduce the logistics cost for enterprises from 13–14% to under 10%. Additionally, it aims to improve last-mile connections and save businesses money and time.
While the new policy targets issues in the logistics industry, PM Modi believes it would also fill up any gaps with the infrastructure augmentation program PM GatiShakti. India will improve its support infrastructure to succeed in the global market.
Prime Minister Modi with its successful decision and delivery on the economic and development fronts. India will dominate China and establish itself as a global center for manufacturing. It is doing this by enacting prudent policies that would enable it to realize long-cherished goals such as becoming an economic superpower. It is now the right time for long-term investors to participate and invest in Indian companies.
What are your thoughts on this? Let us know in the comments section.
Also Read: