Electric trucks are specific kinds of EVs designed to carry unusual weights. Most include electric motors, regenerative braking systems, automated start/stop functions, and run on rechargeable batteries.
Electric Truck Market
In 2021, the global market for electric trucks was worth US$426.7 Mn. According to IMARC Group's research, the rising demand for autonomous vehicles has prompted the leading manufacturers of electric trucks to introduce models capable of driving themselves. Furthermore, they provide hybrid trucks that may run on either gasoline or electricity. Top manufacturers are releasing lightweight electric vehicle models to reduce emissions further and boost efficiency. Moreover, they are concentrating on producing long-range fuel-cell electric trucks. As a bonus, the rising expenditures in R&D efforts to create cutting-edge electric vehicles with reduced battery size, improved fuel economy, and greater mileage are providing profitable chances for the leading competitors.
Why are Electric Trucks Important?
Transportation is crucial in the modern era, yet the internal combustion engine is becoming more irrelevant. Due to their extreme contribution to air pollution, gasoline and diesel cars are fast being phased out in favor of cleaner, more efficient electric models. Completely emission-free, fully electric vehicles (EVs) are the greenest option.
Consumers are seeking low-emission commuting as an alternative to the harmful fossil fuel-driven vehicles that governments worldwide are pressing the EV sector to produce.
Unlike conventional vehicles, electric trucking requires nothing in the way of maintenance or repairs. Since there is no need to bother about oil changes, electric vehicles are simpler and cheaper to maintain.
Top 7 Electric Truck Manufacturers in the Industry
Here are seven top EV trucking companies to keep an eye on in 2023. They are
Tesla
BYD
Nikola Motors
Volvo
Diamler Trucks (Freightliner)
Kenworth
Peterbilt
Tesla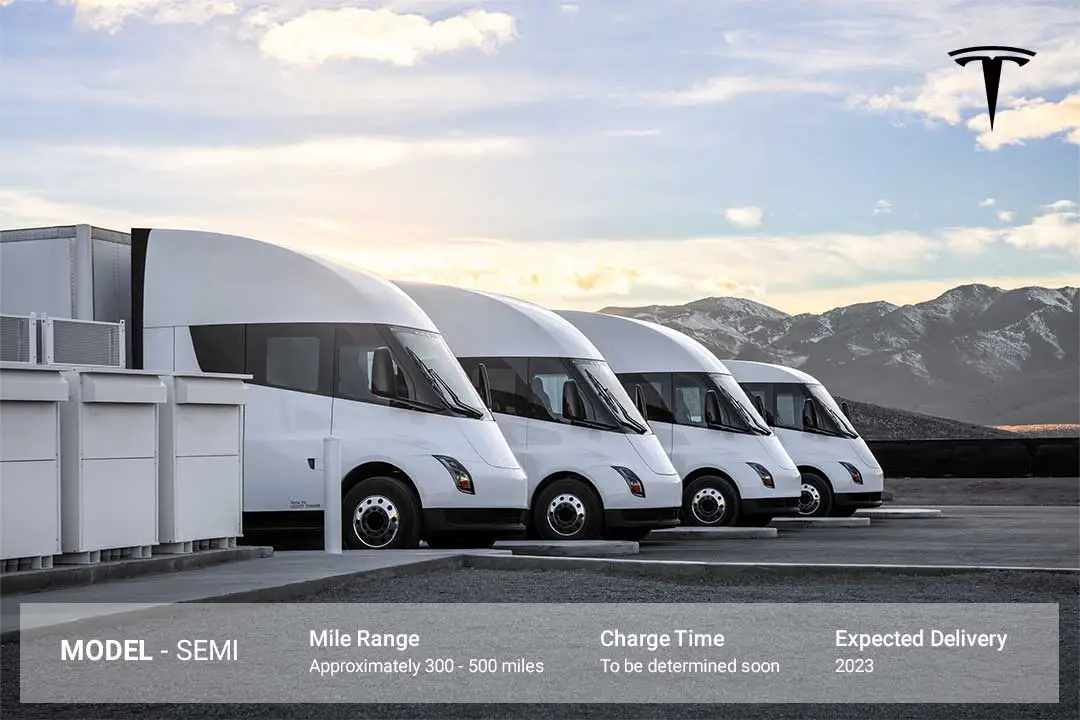 It's not surprising that Tesla is leading the charge to replace diesel-guzzling, long-haul big rigs with all-electric, heavy-duty semi-trucks, given the company's expertise in electric vehicles. In 2017, Tesla declared to begin manufacturing the Tesla Semi in early 2019. The manufacturing schedule was pushed back until late 2020.
One Tesla Semi has a range of 300 miles, while the other can travel 500 to 600 miles after recharging. The company claims that the starting prices for these trucks will be $150,000 and $180,000. To give you an idea of how much that is, the base price of a Class 8 diesel day cab is around $120,000. According to the business, the return on investment for the Tesla Semi will be around two years. The Tesla Semi will have fewer systems to service than a diesel truck, saving drivers money on repairs while reducing the vehicle's total cost of ownership.
Powered by four electric motors derived from the Model 3, the Tesla Semi can go from 0 to 60 miles per hour in just 20 seconds while towing a 40,000-pound trailer. The vehicle can keep going sixty miles per hour even though the incline is five percent.
BYD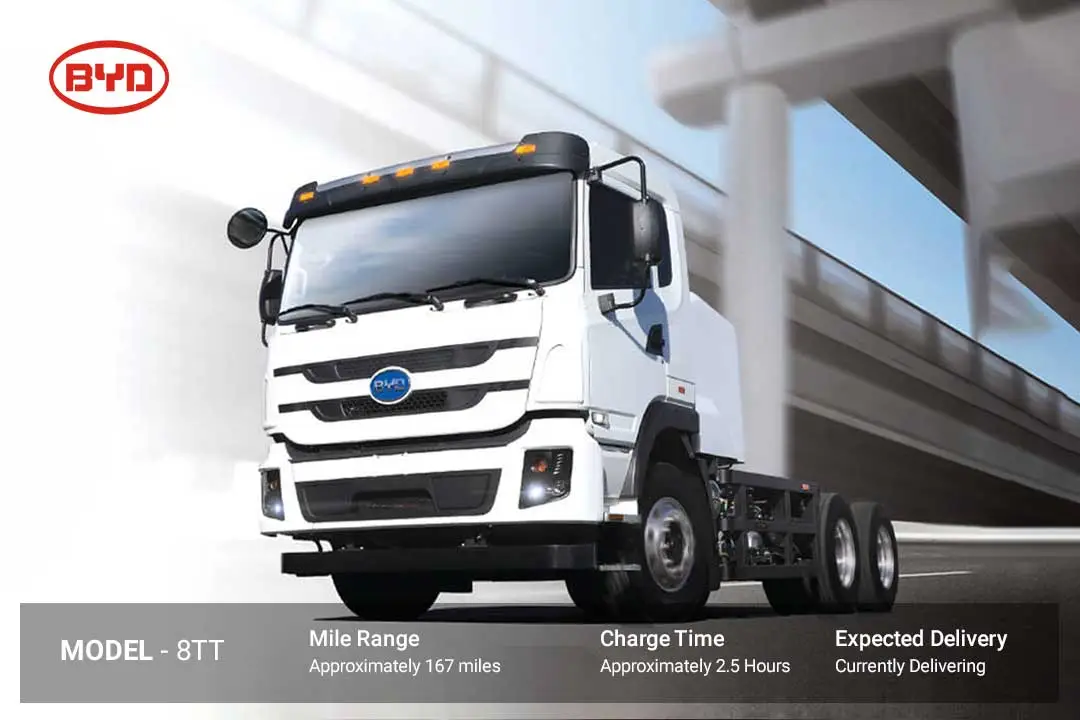 BYD is pursuing the short-haul commodities moving industry, specifically in the United States ports, train yards, and freight-handling facilities. BYD is a Chinese automaker with American outposts in Shenzhen and Lancaster, where they assemble their vehicles. It plans to start selling more battery-electric trucks in the United States in 2023.
There are now 5 Trucks available from the EV truck firm:
BYD 8R
BYD 8TT
BYD 8Y
Class 6F
BYD 6R
According to annual sales, BYD is the largest EV manufacturer in the world (including buses, forklifts, cars, and rail systems). Among these are a Class 6 truck, a terminal tractor, two distinct kinds of all-electric garbage trucks, and a Class 8 Day Cab with a long-range battery.
Class 8 Day Cabs from BYD have a 125-mile range and 65-mph peak speeds. With a high-speed direct current system, the truck's battery packs may be recharged in as little as two hours, whereas a typical 240-volt charging system takes around 14 hours.
Although BYD's electric bus sales continue to drive the company's expansion, the trucking division reports that its medium- and heavy-duty electric trucks are increasingly contributing to its success in the United States.
Nikola Motors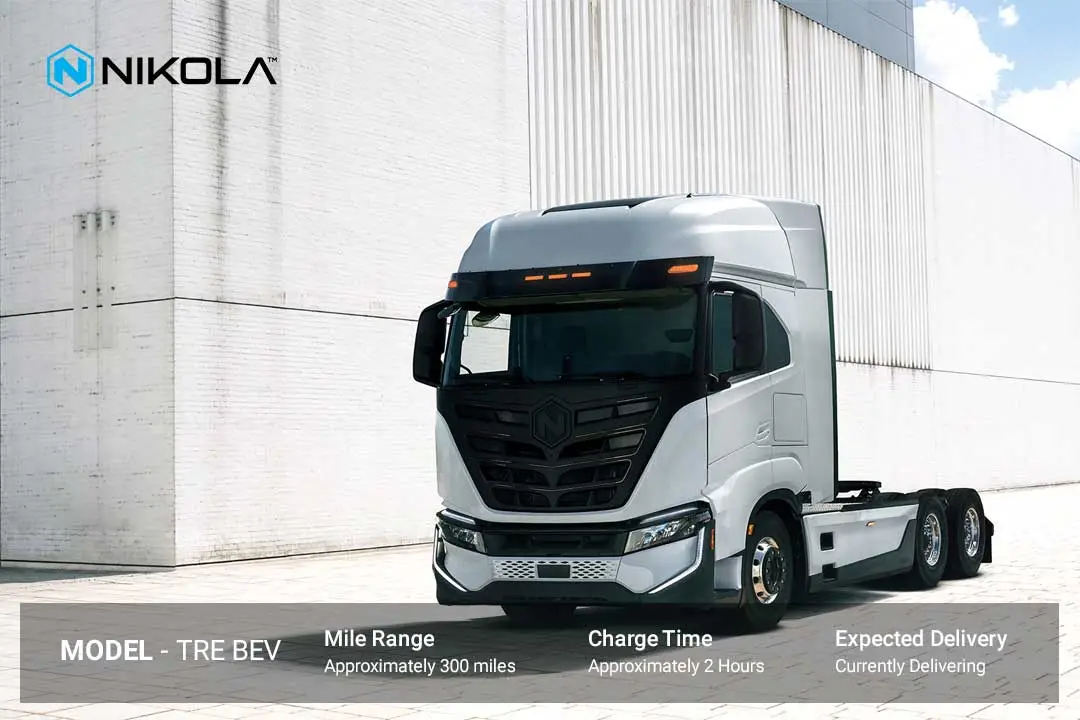 Founded by Trevor Milton in 2014, Nikola Motor is an American electric truck manufacturing firm. Nikola Motors is an electric car startup based in Phoenix, Arizona, that has made significant strides in the industry over the past five years.
Nikola Corporation, like Tesla, is named after Nikola Tesla. In terms of electric trucks, Nikola has exhibited various prototype vehicles mentioned below:
Nikola One
Nikola Two
Nikola Tre
Nikola NZT (Nikola Zero)
Nikola Reckless
Except for electric trucks, Nikola has a significant advance in hydrogen fuel trucks –fuel cell electric vehicles (FCEV) (FCEV). This technique emits zero pollution and creates water as a product. Nikola is aggressively striving to create hydrogen infrastructure with various partners.
Nikola Motors has considerable potential because its prior automobiles have confirmed their brand reliability. Several clients have shown a preference for Nikola's hydrogen fuel-cell autonomous electric trucks, the Nikola Two FCEV and Tre FCEV.
Unlike Tesla Semis and other electric trucks, these rigs don't need large lithium batteries. This alone results in weight savings of over 5,000 pounds.
Volvo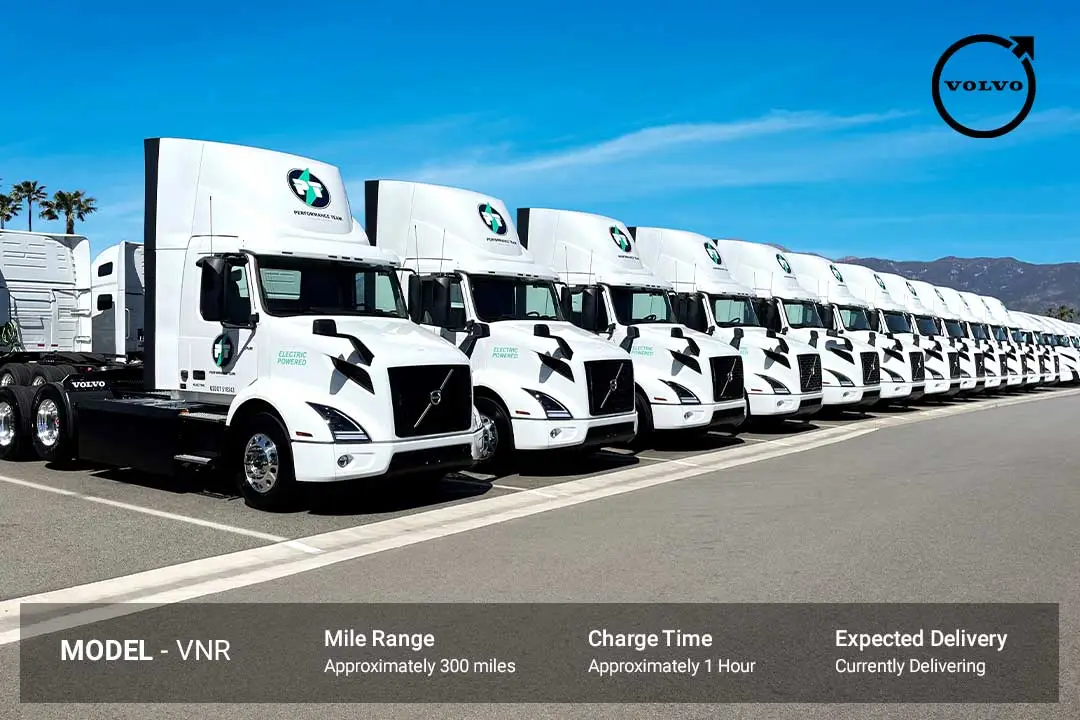 The Volvo brand of automobiles has a strong reputation for safety and dependability. Volvo is a leader in the all-electric truck market, and its lineup includes various options for every job.
The automaker is an enthusiastic supporter of electric car technology. They want to one day rival Tesla's Semi and BYD trucks as the industry standard for efficiency in commercial vehicles. Six electric trucks are now available from the market leader in heavy-duty vehicles.
Volvo FH Electric

Volvo FM Electric

Volvo FMX Electric

Volvo FE Electric

Volvo FL Electric

Volvo VNR Electric
You may buy or use this product or service in the United States, Ontario, Australia, and other locations worldwide. The organization has been experimenting with electric vehicles for some time now and continuously works to enhance their performance, range, and other attributes. Aside from their stellar sales achievement, the quality of their electric vehicles is also remarkable, making them a frontrunner among electric truck manufacturers.
Daimler Trucks (Freightliner)
The world's largest truck manufacturer, German-based Daimler, introduced an all-electric 18-wheeler, the Freightliner eCascadia, in 2018. The huge rig was created for regional transportation and port service and has a 250-mile range. The Freightliner eM2 106, another all-electric vehicle from Daimler, is designed for more neighborhood-focused deliveries and distribution with a 230-mile range. Additionally, the company is developing a school bus and an all-electric box truck (for delivery in cities).
Given that the company, best known for its Mercedes-Benz brand, controls 40% of the roughly $39 billion North American heavy-duty truck market, it will be interesting to see if Daimler will be a front-runner or a back-runner in the transition to all-electric delivery trucks.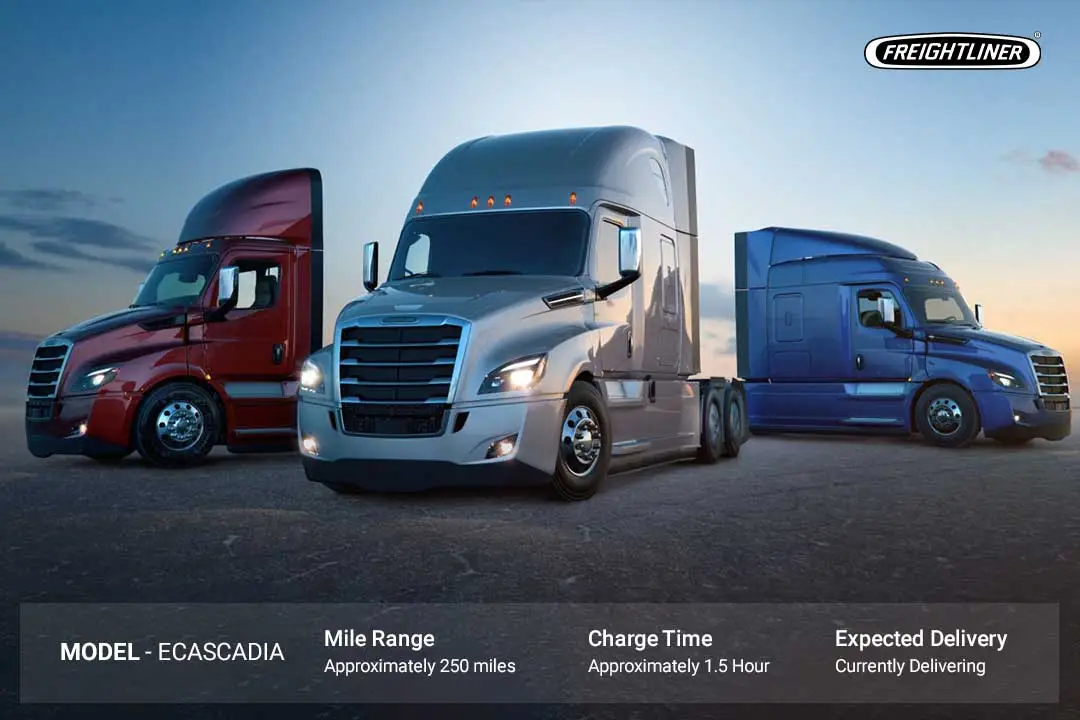 In emissions-free packaging, the Freightliner eCascadia provides the superior performance and capabilities that customers have come to expect. It's the result of Freightliner's ambition to create cutting-edge, zero-emissions commercial vehicles that will lower their clients' total cost of ownership (TCO). Daimler's worldwide engineering knowledge is being put to good use by Velocity Truck Centers and Freightliner to bring this revolutionary technology to market. 
Production of the eCascadia is scheduled to start in late 2022 to 2023 after an extensive period of customer collaboration. It will make possible a commercial transportation solution that is both environmentally friendly and beneficial to business. Freightliner eCascadia has a range of 250 miles and an 80 percent recharge time of 90 minutes.
Kenworth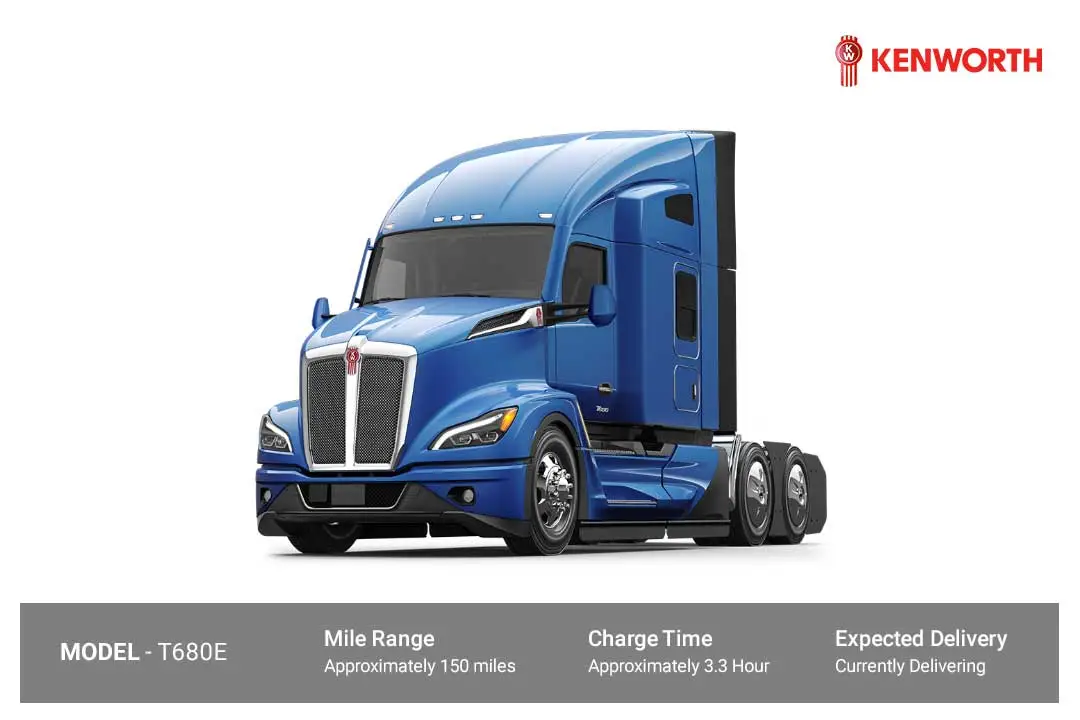 Kenworth's emission-free electric vehicles have been making news recently. Paccar showcased recent developments in battery-electric and fuel-cell truck technology at their Kenworth Zero Emissions Test Drive Event in 2022 January as part of their commitment to advancing zero-emissions transportation. There were heavy-duty T680E and T680FCEV trucks and medium-duty K270E and K370E trucks.
The majority of electric trucks are used for pickup and delivery, drayage, and goods transportation. The T680FCEV is the fuel cell variant, and it has a peak speed of 70 mph, 470 hp, a range of 350 miles, and a refueling period of 15 minutes, making it a superior choice for long-distance applications.
The Paccar battery technology created by Kenworth is unusual in that it was designed for cars with a lifespan of 10 years or more. Because it does not include cobalt, it is better for the environment and wildlife.
Peterbilt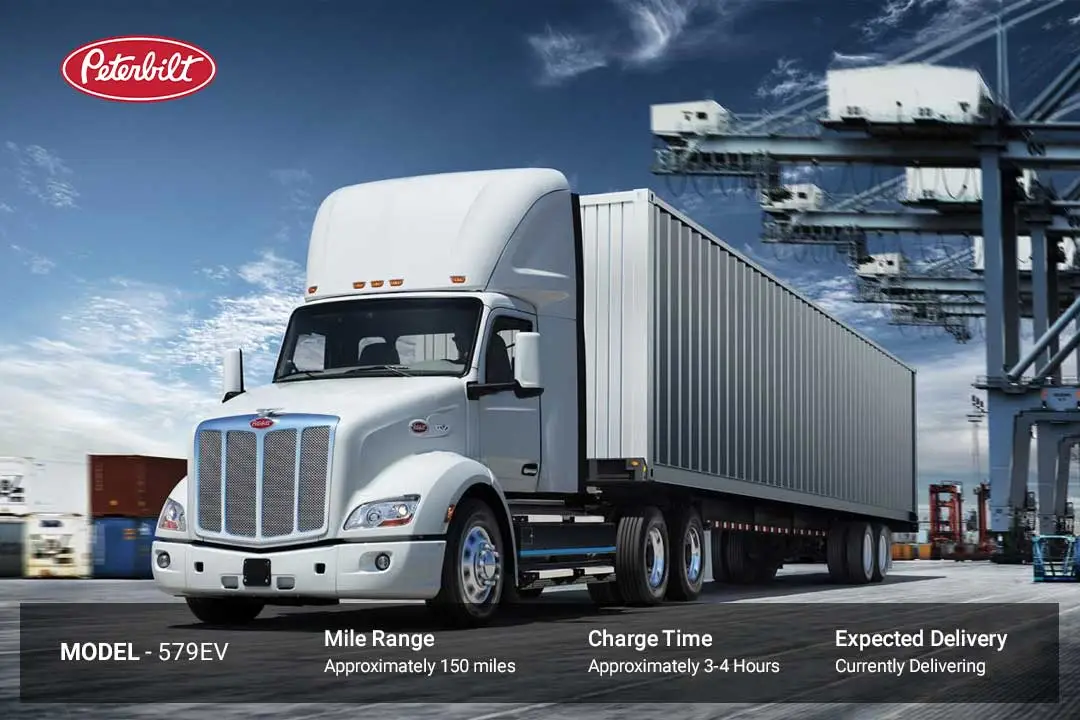 Peterbilt has provided the North American commercial vehicle market with high-quality, dependable vehicles for eight decades. Peterbilt, headquartered in Denton, Texas, produces on-highway, vocational, and medium-duty vehicles that are a credit to their owners and a source of pride for their drivers. Industry-leading aftermarket programs and a committed network of independent dealerships back these automobiles.
Regarding zero-emissions technology, Peterbilt is at the forefront, offering the most comprehensive product selection in the market. Pickup and delivery, drayage, short regional transport, and waste collection are best served by the Model 579EV, Model 520EV, and Model 220EV, respectively.
PACCAR Parts' EV charging stations, which vary in output power from 20 kilowatts (kW) to 350 kW, provide comprehensive support for the whole lineup of Peterbilt EVs. PACCAR Parts and its infrastructure partners can provide customers with EV charger solutions that are scaled to meet the demands of any fleet.
Bottom Line
Automobile manufacturers are making a determined effort to transition to developing electric vehicles. An electric vehicle is advantageous if the necessary characteristics and infrastructure are in place. The multiple benefits of purchasing a battery-powered truck indicate that this year could be the greatest time to make the switch. Plan ahead of time and make the switch to electricity!
While the initial investment in EV trucking may be equivalent to that of a comparable gasoline or diesel-powered truck, the ongoing maintenance and repair costs are significantly lower. An electric truck may cost you significantly less than your present vehicle due to tax advantages, special government incentives, greater fuel economy, fewer power bills, and decreased maintenance requirements.
In the comments, please share your thoughts on the rising sector of electric trucks. If you find this article to be interesting, please share it with your network to raise awareness of electric vehicles and their manufacturers.
Also Read: