Ok so you are an aspiring entrepreneur who is done with the phase of ideating, market research, market feasibility study and all set to launch. But transitioning an idea into a marketable product is a vital step that actually gives physical shape to an idea. More often than not when the right manufacturer isn't identified to commence the manufacturing process, ideas are simply lost in transition. Hence, it's mission critical to find the right manufacturing plant/facility to turn ideas into products as per the original visualization. Manufacturing is a complex process that needs a scientific approach to ensure least gaps in desired output and actual output.
Finding the perfect fitment between an idea and the ideal manufacturing plant
Most businesses especially start-ups in the manufacturing domain find it highly challenging to turn ideas and prototypes into full-fledged products; it requires intricate understanding of elements like design, concept, raw materials, budget and more. There are certain rudimentary elements which need to be factored in while finalizing the right manufacturing facility.
Steps preceding the manufacturing process
Market research is the first step which precedes manufacturing. If the research indicates smooth marketability of an idea/finished product, then the risk factor comes down drastically. Obtaining a license is the next crucial step followed by the process of building a prototype and testing it. The subsequent step is to create intellectual property rights.
Factors to be considered while choosing a manufacturing facility
Best labor practices: A start-up aspiring to leverage best labor practices to foster employee satisfaction and thereby great output should ensure that the same translates to the manufacturing partner. Start-up firms would do well to make sure that the manufacturing facility deploys fair working conditions and an overall conducive environment.
Ensuring total security: Most companies outsourcing the manufacturing process to facilities based out of foreign countries often get stuck when it comes to transparency. It extends to the production partner's capabilities, technical wherewithal, skill levels, fiscal health, compliance with local statutory obligations etc. Start-ups should deploy a mechanism which facilitates total transparency enabling both partners to get a deep understanding about each other.
Protecting intellectual property rights: IPR is a vital element that insulates ideating companies from fraud and undesired outcomes. It is a well-documented fact that some manufacturing concerns resort to impropriety and misuse the IP of the original start-up. This generally leads to bad reputation and PR for the start-up which impacts the market prospects of the product. Working with companies where the start-up already has a prior working relationship generally ensures legal protections of assets like contracts, patents and trademarks.
Prefer manufacturers who accept smaller batches: Choosing manufacturers who accept smaller production batches makes the whole process more economical. It also facilitates better monitoring of the production process.
The role of export promotion councils in India
The role of EPCs (export Promotion Councils) in India has been vital in augmenting the needs of local entrepreneurs. The EPCs act as middlemen or third-party facilitators linking entrepreneurs and manufacturing facilities. There are industry specific facilitating bodies catering to the needs of start-up firms by helping them find manufacturers. 
B2B websites as reference points
Entrepreneurs looking for online reference sites in the process of finding manufacturers can access a number of websites which operate in the B2B domain. Bizbilla.com, Exporterindia.com, Tradeindia.com, Bambify.com, Trysourcify.com are some of the more prominent websites. Entrepreneurs should adopt a cautious approach while finding manufacturing facilities via online sources. Personal inspection, direct interaction with key stakeholders and the unit's market reputation should be considered before finalizing the vendor.
Challenges
while collaborating with Indian manufacturers
Manpower issues: India is perhaps the only nation which gives the maximum number of holidays in a calendar year on account of festivals and other occasions. This takes away valuable production time thereby impacting the output. Complex labor laws are also pain points hurting the manufacturing sector. Some states like West Bengal and Kerala have labor laws with leftist leanings making the manufacturing domain weary.
Low power supply: Despite all its development and achievements India by and large is still a power deficit country. This is a major roadblock for the process of manufacturing.
Inefficient transport system: India lags behind in the transport sector thanks to low connectivity, lack of infrastructure and other such factors. The overall transit system in India is slow and expensive. This directly impacts the output, more so from a delivery perspective.
Top 10 Manufacturing Countries in the World
China – 28.7% Global Manufacturing Output

United States – 16.8% Global Manufacturing Output

Japan – 7.5% Global Manufacturing Output

Germany – 5.3% Global Manufacturing Output

India – 3.1% Global Manufacturing Output

South Korea – 3% Global Manufacturing Output

Italy – 2.1% Global Manufacturing Output

France – 1.9% Global Manufacturing Output

United Kingdom – 1.8% Global Manufacturing Output

Indonesia – 1.6% Global Manufacturing Output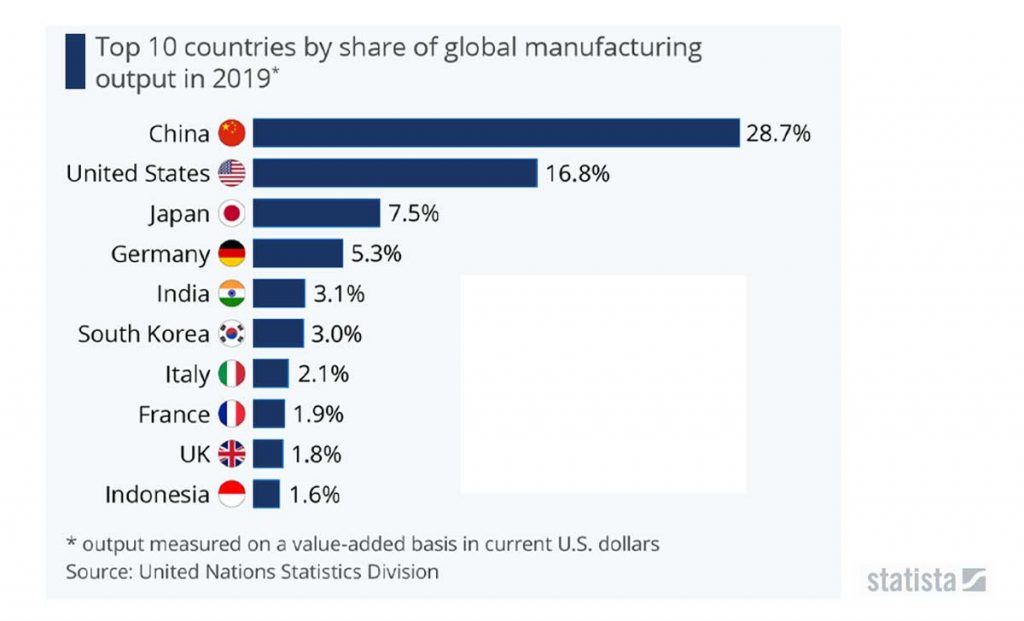 Also Read: