So, you think your brand is all set to go global and reach out to a wider customer base. Well, global franchising is a low-risk, high reward strategy which can help you realize your international dreams. Franchising affords your business fantastic opportunities in terms of easy access to new markets with minimal investment. It of course comes with its own set of risks. But thorough market research, liaison with talented language translators, engaging with localization experts and familiarity with local compliances are critical factors which can make this model a sure shot success.
So, what exactly is international franchising?
Franchising is a proven model that many enterprises leverage to great advantage all over the world. It involves a franchisee who buys the rights to run a business using the franchisor's proven business model. This usually includes the rights to use the franchisor's brand, business model, logo, emblem, trademark etc. International franchising also works in the same way; the only difference being the franchisor selling the rights to franchisees based out of international markets. This enables the franchisor to expand internationally without having to physically set shop in foreign location/s.
Key steps in establishing an international franchise business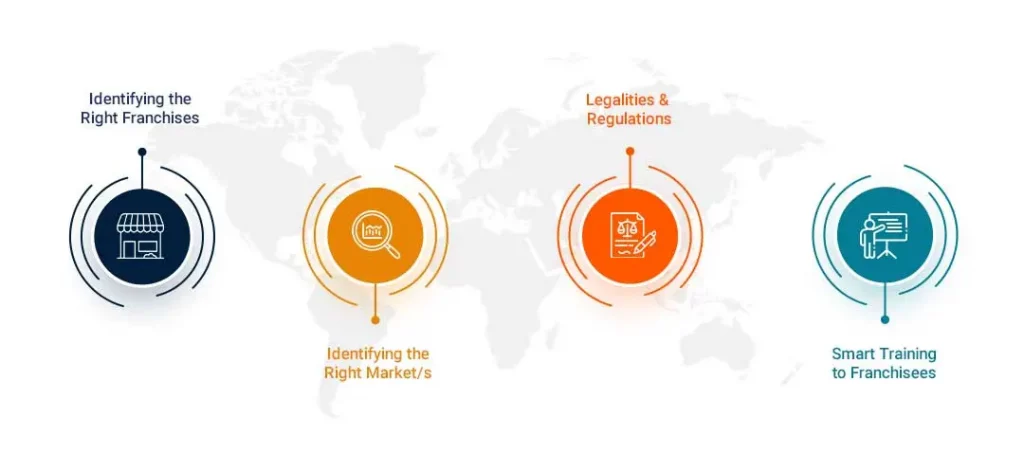 Identifying the right franchisees: One of the most trusted, tied and tested places to identify the right franchisees in various global markets is the International Franchise Association. It not only offers hand holding and advice at every step but also helps identify ideal international franchisees. An ideal franchisee often comes with a proven track record in running businesses similar to the franchisor's and who has strong contacts backed by experience in the specific region where you are trying to expand. Franchisee recruitment process can also be done by attending relevant international industry events. It should be backed by impeccable online reputation, as this attracts high net worth aspirants to your brand. Deploying a central franchisee market wise to supervise, train and guide your franchises could be a major plus. Someone with local knowledge and insight would be ideal. Using the services of localization experts and language translators usually ensures that you are in tune with local customs, legal disputes, employee disputes or regulatory problems.
Identifying the right market/s: Identifying the right markets for your franchise is a key result area. Comprehensive market research usually offers insights into elements like whether customers in a certain market would actually buy your products or service. It's always better to choose markets which have already evinced keen interest in your product.
Legalities and regulations: Hiring someone with absolute understanding of local laws, regulations and compliance helps immensely. Total understanding of local labor laws, trademarks & copyright laws, product ingredient regulations, insurance, taxation etc., is vital.
Smart training to franchisees: It's mission critical to impart good training, particularly in the early stages to the first batch of franchisees onboard. Subsequent franchisees can be trained by specially designated Master Franchisees location wise. Translating employee contracts and other legal documents into the regional language/s for your franchisees is a great way to foster loyalty amongst the new international franchise-holders.
Top franchise business opportunities
Are wondering "What is the most profitable franchise to own?" Here are the 11 most profitable franchises in India to give you some idea of the contemporary scenario.
Tumbledry – Lifestyle service

Subway – F&B

Giani's – F&B

Jawed Habib Hair and Beauty Ltd. – Lifestyle retail

InXpress – International shipping

DTDC Courier And Cargo Ltd. – International Shipping

Lenskart – Lifestyle retail

FabIndia – Fashion retail

Pepperfry – Lifestyle retail

Kake di Hatti – F&B

EuroKids – Academic

Affinity Salon – Lifestyle retail
An example of how to set up a franchise business in USA from India
Franchising is regulated and needs strict compliance with federal and state franchise laws, USA. The first document required is the franchise disclosure document, also called the FDD. It is the legal document required by the franchise laws. It is a mandatory document needed to franchise your business and sell franchises. You must give potential franchisees your FDD 14 days before they sign any agreement with you or remit any payment to you.
FDD components: The FDD is segregated into 23 sections with each section referred to as an "Item."  Each disclosure Item is intended to inform a prospective franchisee about you, your franchise and the legal obligations involved. Standard information spans details about your franchise agreement, franchise fees, royalties, on-going fees, start-up costs, territories, trademarks, financial performance representations etc. An FDD has to be to be updated at least annually without fail. In franchise registration states, it must be approved and registered with state regulators before selling a franchise in that state. There are also some states in the US that mandate franchise filings and business opportunity filings as a standard compliance.
Steps involved: Analyze if franchising is right for your business, Issue your franchise disclosure document, Devise your operations manual, Register your trademarks, Commission your franchise company, Register and file your FDD, State your franchise sales strategy and budget.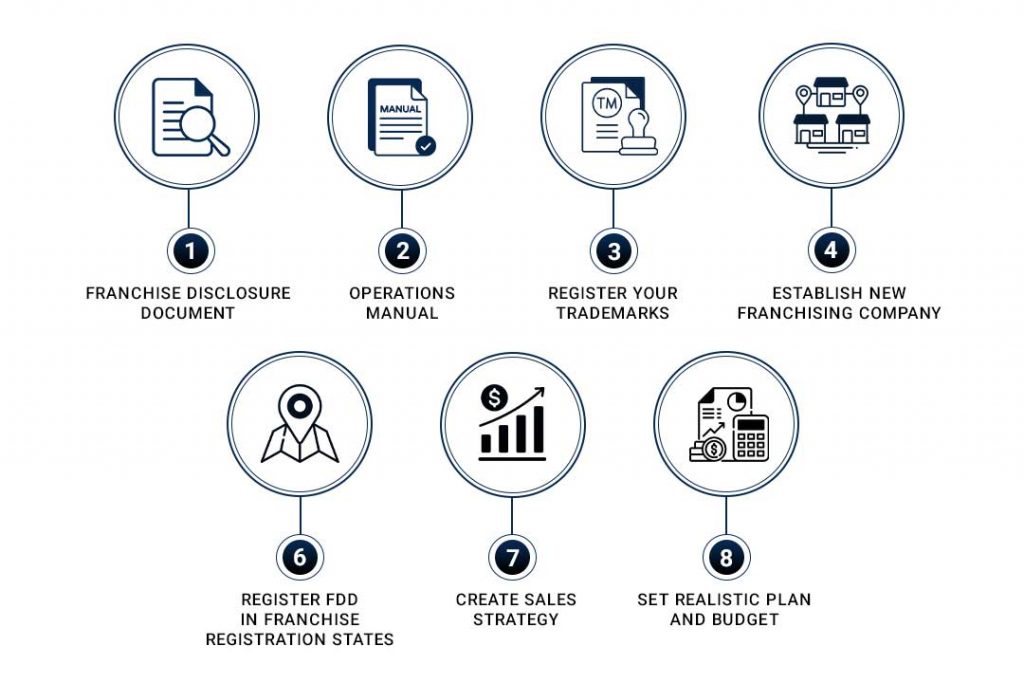 The bottom line
The model is definitely viable and the reasons are aplenty. The initial cash injection from the franchise fees could add serious fiscal muscle to your enterprise. There's also an opportunity to popularize your operating & business model, overseas branding and other methodologies to gain overall market traction. And yes, you also get to enjoy international expansion with minimal effort within a short span of time.
Also Read: