It's the age of startups ushering in new winds of change across the globe, especially emerging markets like India. The traditional template of gaining experience after education before taking the entrepreneurial plunge is no more in vogue. The contemporary times are witnessing bright young minds brimming with ideas, eager to turn them into marketable products via startups. "Got an idea? Go for a startup!" – that's the paradigm shift which is defining today's business spectrum. In fact, in India alone, there were more than 61,400 recognized startups as of January 10, 2022; and in 2021, more than 500 districts across the nation had at least one new startup. Such is the magnitude of the burgeoning startup culture. However, there's a flip side to the whole scenario. The startup success rate across the globe including India is an underwhelming 10 percent which is a point to ponder. There are certain rudimentary elements to be factored in before embracing entrepreneurship in order to succeed.
Chase an idea, not the money
More often than not, most newbie entrepreneurs are driven by the parameter of profitability. Viability of the basic idea which needs to be evolved into a product takes a backseat. It's advisable for aspiring entrepreneurs to look around for problems/issues being encountered by people and businesses. These pain points need to be addressed by formulating a feasible idea. When this problem addressing idea is turned into a product/solution/service, its market viability gains immense traction. It's the first step in establishing a startup with sustainability. The profits automatically are triggered once the idea's problem-solving abilities are discovered by the target segment.
Example: Amazon was one of the first few companies to figure out the customer pain points in an archetypal brick and mortar shopping framework. And launched an idea of shopping at the click of a mouse right from the comfort of home/office. And the company never had to look back.
Identify the right market
Figuring out who the ideal customer is a critical success factor. The first step startups need to take is to identify where the idea fits into in a sea of customers. A typical target segment comprises different consumers with different tastes, preferences and needs: yet they are all facing the same set of issues which can be addressed by the specific solution. It's all about finding a perfect fitment between a solution and the consumer journey.
Create a fiscal plan and phases
Deploying a detailed fiscal plan is a crucial step. In most cases a bottoms-up approach delivers results. It entails how a solution is created, marketed and sold to the end customer. This approach provides insights into the business model's functionality. The bottoms-up model-based projections should then be juxtaposed with a hypothetical top-down model which gives out a picture of the market size, goals in achieving profitability etc. Planning the phases in rolling out the solution is the subsequent stage. Every core team member should be unified in thought process by driving the brand philosophy, mission, vision, objectives and more.
Zeroing in on the funding source for seed capital
Figuring out the right debt-equity ratio is critical for any startup to succeed. Brilliant ideas often fail to take off due to lack of a fiscal roadmap. Aspiring entrepreneurs would do well to have a prior idea of the source of funds for both one-time costs and overheads; this should extend at least till the break even point. Source of funds may span own funds, institutional borrowings, credit cards, loans from acquaintances etc. The repayment plan should be devised concurrently.
Conceptualizing an MVP
This is the phase when startups are required to build a minimal viable product (MVP) to assess the market feedback before the full-fledged launch of the solution. Entrepreneurs have to ensure that their idea/product has a true purpose in the consumer journey. It's not about building a minimal product but creating a great, smart solution that has scope for further improvement. Building an MVP facilitates the onboarding of early adopters who in turn could give valuable feedback. Building further on the inputs gathered from early adopters to improve the product could be a game changer. It enables entrepreneurs to pivot the business model if needed. It could also involve steering the business in a new direction basis the inputs and insights from early users.
Examples of some of the most successful startups in the recent times include Urban Company, Classplus, Apna, Razorpay, UpGrad, Delhivery.
Examples of some surprising failures despite a great take-off include MoviePass, Theranos, Quibi, Munchery, Hipmunk, Jawbone, Mixer, Chef'd.
Global industry distribution of startups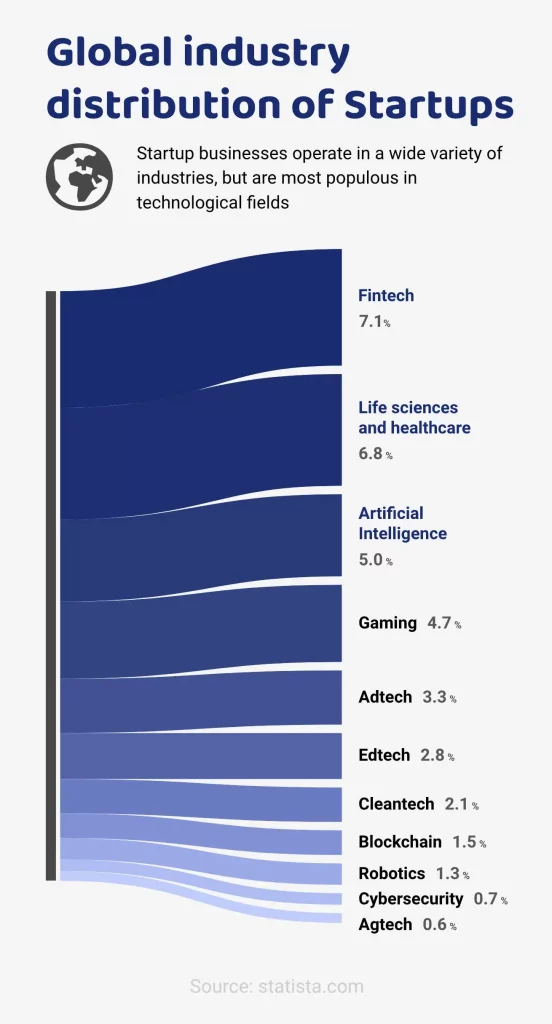 Also Read: