Elevāt has partnered with Cummins Inc. (NYSE: CMI) to integrate Cummins Connected Diagnostics with the Elevāt Machine Connect IoT platform.
The Collaboration – Elevāt And Cummins
The foremost provider of off-highway OEM solutions, Elevat, has joined forces with Cummins Inc. (NYSE: CMI), a global power technology leader. The partnership streamlines troubleshooting, lowers downtime, boosts output, and maximizes equipment availability. Also, the right parts, tools, and technicians can be made available to quickly fix problems through the data provided in Connected Diagnostics.
The Reason For Collaboration
Elevāt and Cummins will collaborate to enable major components, controllers, and Human Machine Interfaces (HMIs) on mobile equipment for advancement through an application. The user-friendly solution provides insights allowing speedy support, facilitating component care, and preventing damage. 
With the Elevāt platform, customers can track the machines' maintenance, uptime, and utilization while getting real-time suggestions about the condition of the Cummins engines.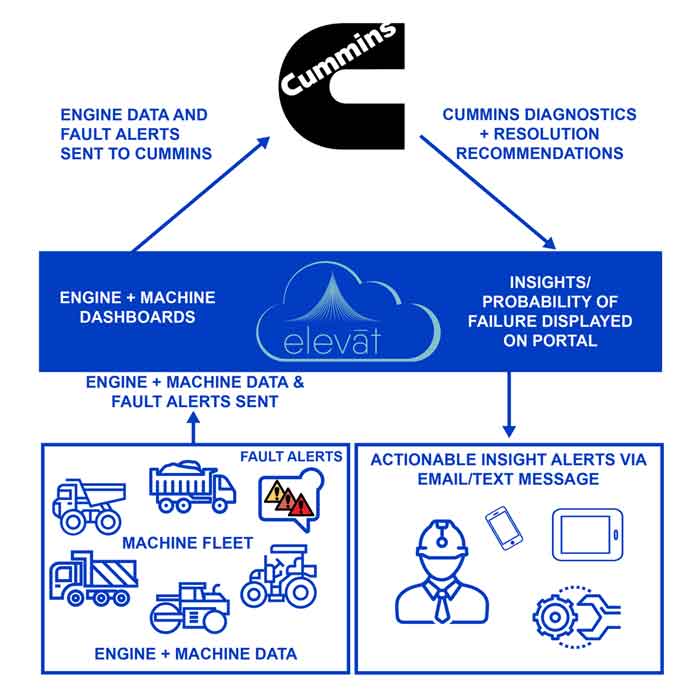 About Elevāt
Elevāt is an Industrial IoT business that aims to connect the industrial sector. Elevāt specializes in tying up machine fleets and facilitating data exchange between operators, distributors, and OEMs. Elevāt makes it possible for your company ecosystem to compete more successfully in the quickly changing international market by facilitating their connection to the cloud, offering useful data, and improving the efficiency of interactions between humans and robots. 
In addition, its partners include top players in the markets for heavy machinery, industrial machinery, agricultural equipment, oil, gas, and energy.
About Cummins
The global-scale provider of power technology, Cummins Inc. is a conglomerate of complementary business units that develop, produce, sell, and support a wide range of power solutions. Cummins provides customer service online through a network of company-owned and independent distributor facilities and thousands of dealer locations across the globe.