The broader textile spectrum is experiencing amplified growth the world over. The sheer size of the industry is a case in point. The worldwide textile industry size was valued at USD 993.6 billion in 2021 and is tipped to grow at a compound annual growth rate (CAGR) of 4.0% from 2022 to 2030. Mounting demand for contemporary apparel coupled with the emergence of e-commerce platforms is driving the market growth over the forecast period. The textile segment operates on three major principles – designing, production, and distribution of different raw materials, including yarn and clothing. A host of sub-processes spanning knitting, crocheting, weaving etc., are commissioned to produce a wide range of finished and semi-finished goods in the form of bedding, clothing, apparel, medical, and other accessories.
USA, the undisputed market leader
The U.S. is one of the largest and fastest growing textile markets in the world. The country is one of the largest producers & exporters of raw cotton and top raw textile importers. Fashion is the largest application segment in the North American region thanks to highly dynamic fashion trends accelerated further by e-commerce platforms and online fashion brands. Right now, the industry is focused on using eco-friendly raw material like optical fibres, metals, and various conductive polymers to favourably interact with the environment. This trend is anticipated to propel the growth of the technical application segment in the market in the coming period. Increasing consumer awareness and preference for sustainable products is compelling textile entities to reimagine their business models and invest in industry practices that produce sustainable products. DuPont's usage of plant-based faux fur for making performance fashion apparel and Eastman's usage of discarded carpet into new material are fine examples of the growing trend. This in turn is expected to act as a key growth driver for the forecasted period.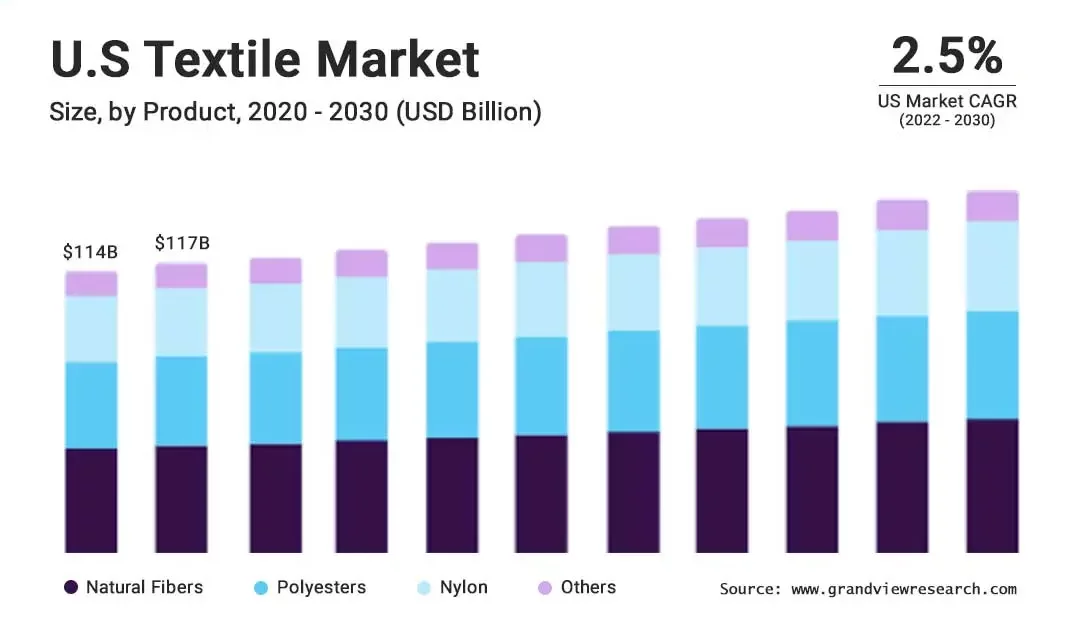 World's Top 5 Textile and Clothing Exporter Countries
China Is the Largest Exporter and Producer of Textile and Apparel Garment Country globally. As per the World Bank Top 5 Global Textile Business Exporter Countries are
China with USD $ 263353.18 M (In Million) Estimate Export Market Share (33.69%),
Germany USD $ 263353.18 M (In Million) Exports Sector Contribution (33.69%),
Italy USD $ 36662.55 M (In Million) Exports Share (4.69%),
India USD $ 36544.45 M (In Million) Exports Market Percentage (4.67%),
Vietnam USD $ 31779.09 M (In Million) Exports Contribution (4.06%).
World's Top 5 Textile and Clothing Importer Countries
In the global Textile and Clothing Business Segment USA Is the Leading Import Country and Germany Is Second Largest Importer followed By Japan, UK and China. Top 5 Importers of Textile Products Worldwide are –
USA Around USD $ 119482.18 M (In Million) with Import Share (16.55%),
Germany around USD $ 55827.97 M (In Million) with Import Share (7.73%),
Japan around USD $ 37749.46 M (In Million) with Import Share (5.23%),
UK around USD $ 32842.99 M (In Million) with Import Share (4.55%),
China around USD $ 31737.92 M (In Million) with Import Share (4.4%).
Raw Material Insights
Cotton accounted for almost 40% share of the global textile revenue in 2021. The preference for cotton is attributed due to its qualities like high strength, absorption and colour retention. China, India, and the U.S. are the biggest producers of cotton and cotton-based products in the world. Chemical-based textile is estimated to account for 97,075.9 kilotons in 2021. They are extensively used as mercerizing agents, neutralizers, levelling agents, binders, thickeners, and stain-removers in the textile industry. Wool-based textile accounted for 13.3% of the market in terms of revenue in 2021. Wool primarily composed of hydrogen, carbon, sulphur, and nitrogen, is used to manufacture products such as winter wears, blankets, carpeting, upholstery, and others.
Product Insights
Natural fibres accounted for the maximum revenue share of more than 44.5% in 2021.  This trend was attributed to the wide usage of natural fibres in diverse applications of the fashion and apparel industry. This segment will grow further at a steady CAGR from 2022 to 2030 due to the increasing environmental awareness and consumer preference for sustainable products. The nylon segment is estimated to register the fastest CAGR, in terms of revenue, as it is widely used in apparel and home-furnishing applications owing to high resilience, elasticity, and moisture-absorption. The polyester segment is also expected to experience a steady growth rate from 2022 to 2030, due to the rising demand thanks to properties like high strength, chemical & wrinkle resistance, and quick-drying.
Application Insights
The fashion application segment led the market and accounted for more than 73% of the global revenue share in 2021 owing to the increased consumer spending on clothing and apparel. In addition, high consumer demand for crease-free suiting & shirting fabrics, as well as quality-dyed & printed fabrics across the globe is estimated to drive the segment growth further. An increase in demand for formal & casual wear and other fashionable clothing among all age groups across the globe is a major growth driving factor for the market. Moreover, the growing population and rapid urbanization in the emerging economies, such as India, Bangladesh, Vietnam, and Brazil, are likely to boost the demand for clothing and apparel, thereby positively contributing to the segment growth.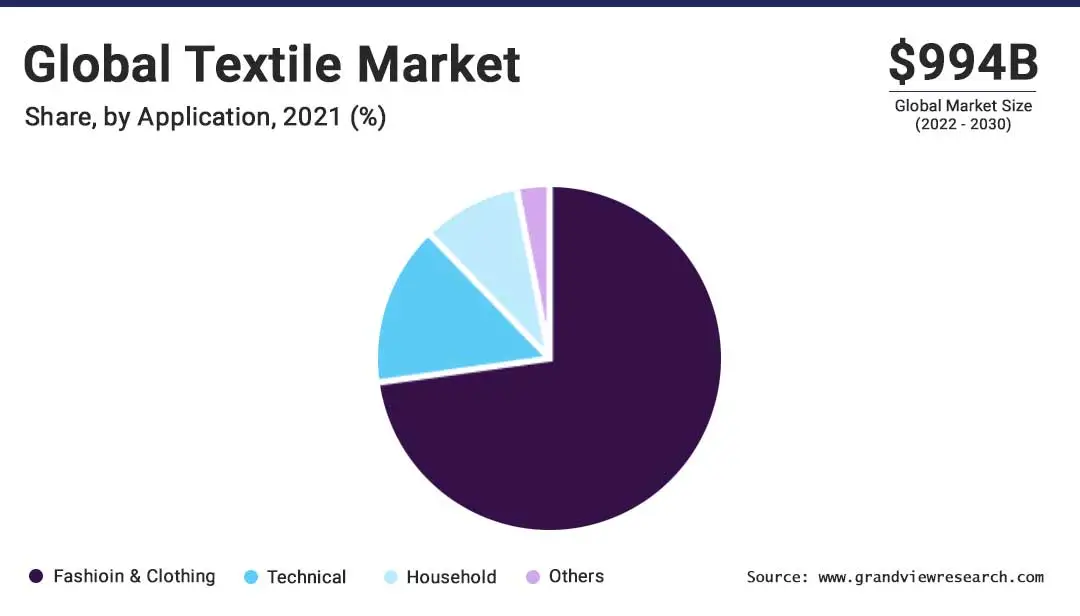 Global Trade in Textile and Clothing
Developed countries contributed over one-third of world exports in textiles and clothing. The shares of developed economies in textiles and clothing trade were estimated to be 47 percent (US $ 79 bn) and 29 percent, (US $ 61 bn) respectively. The composition of imports of clothing and textiles by USA is around 80 percent and 20 percent (US $ 18 bn), respectively. Latin American region stood at second position with a share of 12 percent and 26 percent respectively, for textiles and clothing imports, by USA. In most of the products imported by USA, India was one of the leading suppliers of readymade garments. China is a close competitor; yet it lost out on account of higher unit prices thus providing impetus to Indian businesses. EU recently overtook USA as the world's biggest market for textiles and clothing. Intra-EU trade accounted for about 40 percent of total clothing imports and 62 percent of total textile imports by EU. Asia dominates EU market in both clothing and textiles, with about 30 percent and 17 percent share, respectively. In the EU market also, India is the leading supplier for many of the textile products. Turkey is emerging as a competitor but it's advantage India as the costing is lower than both Turkey and China in many of the categories.
Free Trade Agreements (FTAs) in play in the textile industry
Trans Pacific Partnership (TPP) pact is under negotiations and its details are not completely available in the public domain. The pact involves USA, Vietnam, Australia, New Zealand, Brunei Darussalam, Chile, Malaysia, and others.
The ASEAN (Association of South East Asian Nations) free trade area mandates all the ten member countries to have free trade relations mutually. This pact has ushered in a competitive manufacturing and production area in the global textile market.
North American Free Trade Agreement (NAFTA) is another free trade agreements which has increased trade among the member nations, i.e., USA, Canada, and Mexico.

On the flip side, as per a recent WTO report, the world's top 20 economies have introduced 124 new restrictive policies to their existing trade policies.
Read More: