It's a well-known fact that the tire industry is one of the key components driving the automobile industry. The ever-burgeoning market size of the automobile industry is having a 'directly proportionate' effect on the tire industry market size; it is also experiencing exponential growth. The worldwide tire market reached a volume of 2,268 million Units by 2021 and is predicted to reach 2,665 million Units by 2027.  This reflects a CAGR of 2.8% for the period 2022-2027 which is beyond impressive. Apart from accelerating sales of passenger vehicles, especially in emerging nations, the booming infrastructure across both the developed and developing countries is driving the growth of the automobile and tire industries.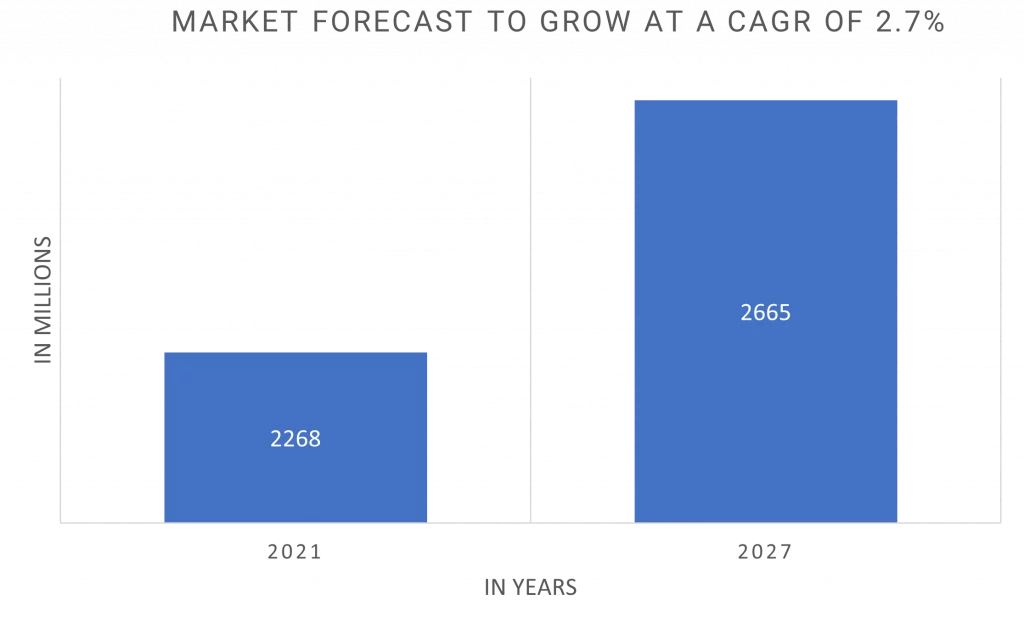 Source of Insights: Research & Markets
Tire Industry Market Segmentation
The global tire market is categorized by vehicle type (Passenger cars, light commercial vehicles, medium/heavy commercial vehicles, two wheelers, three wheelers and OTRs), by demand category (OEM and replacement markets), by tire production type (Radial, bias). When it comes to country wise segmentation, the US is regarded as the market leader with its tire market tipped to reach around USD 69.98 billion leading up to 2027.
Major Global Players In The Tire Market
Major global players spear heading the global tire market surge include
The Michelin Group,

Bridgestone Corporation,

Continental AG,

Goodyear Ttre and Rubber Company,

Sumitomo Rubber Industries, Ltd.

Hankook Tire & Technology Co., Ltd.,

Pirelli & C. S.p.A.,

The Yokohama Rubber Co., Ltd.,

Zhongce Rubber Group Co., Ltd..,

Cheng Shin Rubber Industry Co.,

Toyo Tire Corporation,

Shandong Linglong Tire Co., Ltd.,

Giti Tire, Sailun Group Co. Ltd.,

Madras Rubber Factory Ltd.,

Kumho Tire Co. Inc.,

Nokian Tires plc,

Nexen Tire Corporation,

JK Tire Industries Ltd.,

Apollo Tires Ltd.. Etc.
Most key players are betting big on advanced technologies to gain the vital competitive edge. They are rapidly enhancing their product portfolios in response to market needs for gaining a deeper and wider outreach.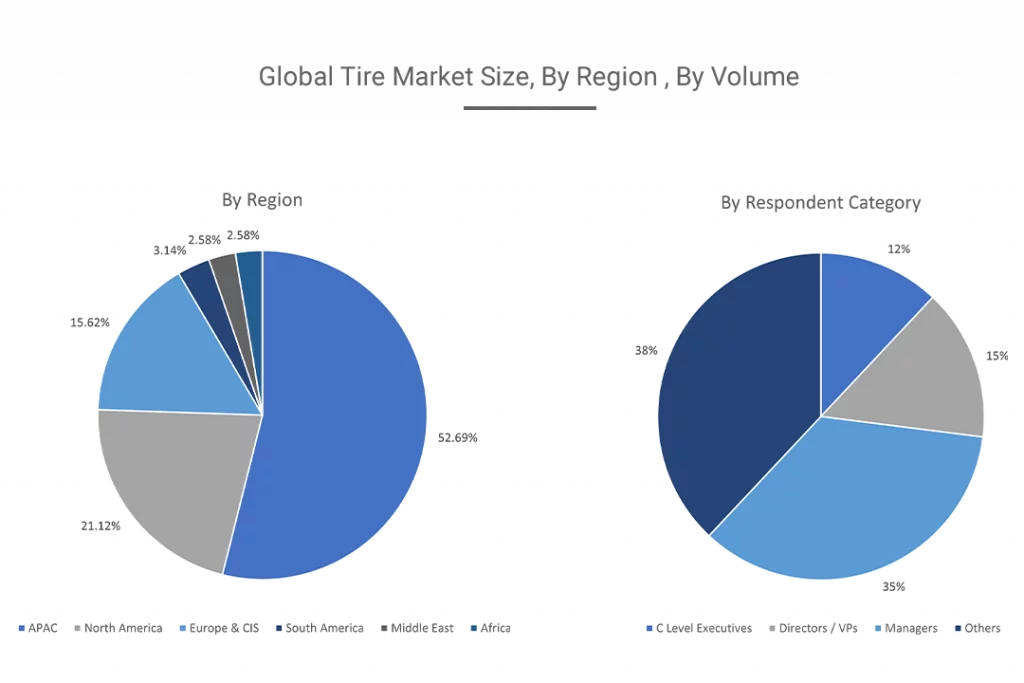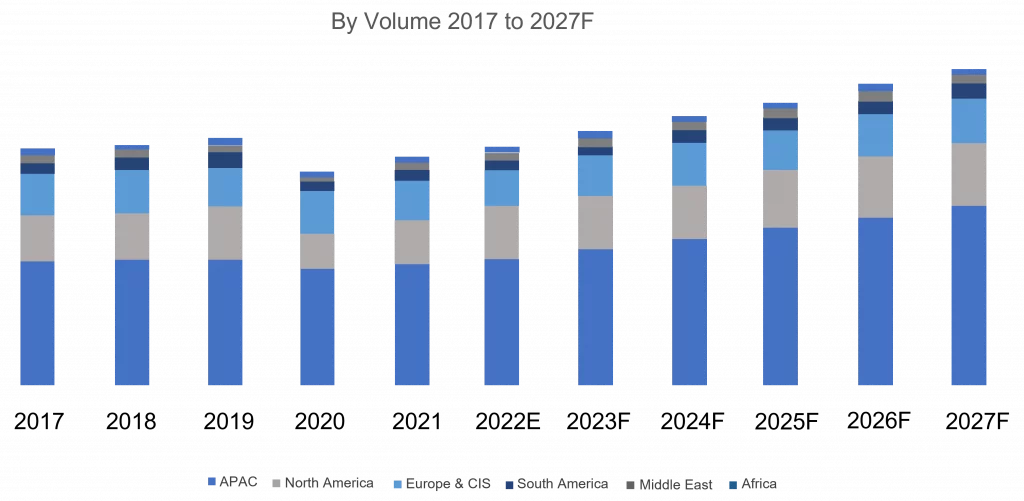 Source of Insights: TechSci Research
The OEM Scenario
The global automotive tire OEM market size for passenger cars which was valued at USD 47.22 billion in 2018 is projected to grow at a CAGR of 4.7% during the forecast period leading up to 2025. The LCV tire OEM market is forecasted to reach USD 13.88 billion by 2025. And the worldwide HCV tire market is predicted to reach USD 17.77 billion for the same forecast period at a CAGR of 2.6% which is impressive for the segment. Based on tire types, the tubeless radial tire segment is expected to drive the market growth in the OEM sector. Geography wise, the Asia Pacific region led by China is all set to dominate the global OEM market; all the key players in the region are leveraging innovation and R&D to come up with products like airless tires, 3D Print tires, puncture proof tires and more.
The Import Export Perspective
The top exporters of rubber tires for the period ending 2020 – China ($13.4B), Thailand ($5.47B), Germany ($4.9B), Japan ($4.26B), and United States ($3.92B). Top importers for the same period – United States ($13.2B), Germany ($6.04B), France ($3.23B), Netherlands ($2.44B), and Mexico ($2.43B). In the year 2020, tires were the world's 36th most traded product (Total trade of $71.6B).
The Tariffs
The countries with the highest import tariffs – Maldives (34.9%), Bermuda (35%), and Sudan (35%). The countries with the lowest tariffs – Mauritius (0%), Hong Kong (0%), Japan (0%), Singapore (0%), and Switzerland (0%).
India Tire Market Analysis, 2022-2027
India is the world's fourth largest tire market after China, Europe and the United States. It achieved a volume of 182 million units in 2021 and is expected to reach 221.8 million units by 2027, powered by  a CAGR of 3.59% during 2022-2027. The demand is driven by two end-user segments spanning OEMs and the replacement segment. The replacement market clearly accounts for most of the total sales. While the OEM segment growth is mostly driven by new automobile sales, the replacement sector is powered by usage patterns and replacement cycles.
The top 10 manufacturers command around 80 percent of the total market share India's tire market. The market leaders include MRF, Apollo Tires and JK Tires. The export sector is experiencing strong growth aided by international demand for quality tires. Tire exports from India jumped 50% YoY in value terms to INR 21,178 crore in FY22 as per a recent press release by the Commerce ministry of India.
Impact of Tire Manufacturing on the Environment
The solid waste generated by tire manufacturing has a major environmental consequence giving rise to many a concern. As per EPA, tire production has been generating approximately 290 million scrap tires each year since 2003; the number is increasing with every passing year with these wastes impacting soil, air and water quality.
While tire manufacturing triggers the overuse and depletion of key natural resources, old tires too play their part. They leak heavy metals and other carcinogens into the soil at landfills which pollute soil and water reserves. Added to this, solid tire waste fills up available landfills, negatively affecting surrounding ecosystems and animal populations.
However, industry leaders of the sector are tackling this problem by reducing resource usage, improving recycling efforts and fully implementing sustainable production lines. Firefighting measures like optimum use of natural resources, deploying more durable technologies and implementing 100% sustainable supply chains are also being commissioned.
Also Read: